I trust you all had a happy weekend! It was a bit gloomy and cold here but the sun is shining bright today!
I think 2013 is the "Year of the Bathroom!"  If I'm not working on a full blown reno, then it's working with clients to design floor plan options, or helping clients to choose finishes so they don't make costly mistakes choosing something dated. Here are some things to keep in mind if a bathroom reno is in your future.
1) You can't go wrong with an all white space:
It's funny how a few years ago, beige tiles were everywhere and were considered OK. Now, I do one of those "my eyes, my eyes!" when I see them in tile stores.  My Pinterest Bathroom board has over 300 pins and I would say 80% of them (not including the powder room ones) are white or mostly white bathrooms with a touch of grey or black thrown in. Simple, clean, classic.
A recent client I worked with mentioned during our first meeting that she didn't like subway tiles or marble.  Oh boy  - now what am I going to do? :)  Subway tiles always look classic in a shower and marble mosaics on the floor are my go-to tile. (I don't have a photo to share yet but we ended up going with a large format blue-grey tile on the floor and a large format plain white tile in the shower. Lots of white with blue-grey!)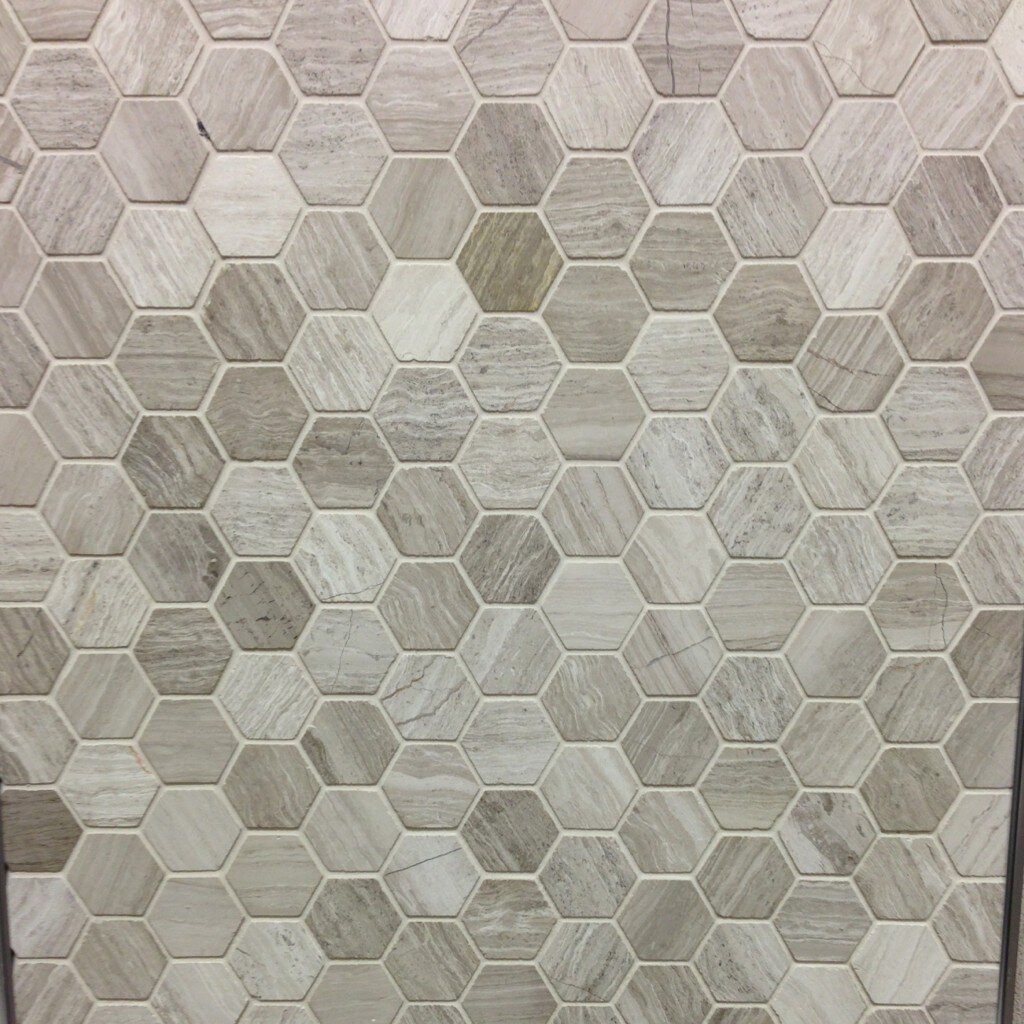 P.S. I may be convinced that beige is not boring after I spied this tile (above) awhile back. It's labelled "Bianco Wood – honed marble" and is suitable for floors and walls. I can see it as a bathroom floor with a whitewashed/light wood vanity for a Scandi sort of look. When I spied it in a different tile store, the salesperson said it was actually limestone even though it's labelled marble.  Hmmm..anyway, whatever it is I love it!
2) Less is more:
Although I love accent tiles on bathroom floors, I have never been one to do an accent tile on shower walls. A row or two of a different tile just seemed random and like the bathroom was trying too hard to make a statement. However, black bands of tile (like the image below) which creates a pattern looks beautiful and purposeful.  I could totally buy into this and I think it reads as not busy.
3) Every bathroom needs "a moment:"
And by that I mean something special whether it's wallpaper (you know I have to say that, right?), wainscoting, the faucet, gorgeous tile or even a colourful or graphic shower curtain.  
This is a kid's bath I worked on and right from my initial meeting with the client I mentioned wallpaper. I thought it would be perfect in a kid's bath especially seeing as this bathroom was long and narrow.  The clients just loved the tree wallpaper especially once it was up. The bathroom is not 100% complete yet (waiting for art to go up, that's always the last thing but really finishes off any space. That should be a tip on it's own!)
The brushed brass fixtures (Kohler) up the cool factor in this bathroom. I haven't been able to convince any of my current clients that brass is beautiful! You can see House and Home's Art Director Mandy Milks' two bathroom renos here.
4) Have everything ready and on hand when the reno starts:
If your contractor says he can start a few weeks earlier than you had anticipated and you don't have all the necessary items on site, then just stick with your original date.
Most items (tile, tubs, toilets etc) can be shipped within a week max but vanities can take 4-8 weeks if you are doing custom.  And you want to make sure that it's ready or within a week of completion when you start.  Also keep in mind that if you are doing a stone or quartz top on the vanity, there is usually a 2 week wait from template to install. More waiting until you can fully use your bathroom.
(all photos via my Pinterest bathroom board.)
5) Sometimes custom is the only option:
I'm referring to vanities specifically.  There aren't a lot of well-made, attractive vanities out there (believe me, I know!), especially when you are looking for a specific size and colour (like the pink vanity above – how fun for a girl's bathroom!)  Custom may cost more than a ready made but the quality is usually better and you can get exactly what you want – size, style and colour.
I know you may have seen this bathroom before but I designed this vanity to fit the space. I will share the other custom vanities I designed recently once photos are taken!
6) You get what you pay for:
This is true of most things and no exception with bathrooms.  You may be tempted by the floor tile that is $3/sq ft but trust me – stay away. What I have learned (from the tile store I deal with) is that these tiles are mass produced offshore and because they aren't given enough time to dry out, they usually warp. So, spend a little more and you won't have this disaster happen to you after you have ordered, or worse - installed!
And last but not least, a consultation with a designer for only a few hours will put your bathroom reno on the right track – whether it's the layout or the look. You don't want to be doing another reno in a few years!
So, are you doing a bathrooom reno this year? Do you have any tips to share?
Have a happy week!
I'm linking up here.
Contact me at vanessa(at)vanessafrancis.com if you require assistance with your bathroom or any other design project!